Scanner Modifications and Antennas
Jerry Pickard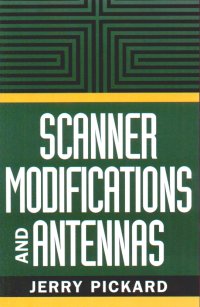 Well, I might be a bit biased here since I am an Electrical Engineer and this book hits my 2nd favorite past time dead center. But the book deserves high praises whether I am Biased or not.

Mr. Pickard has obviously spent a lot of time and research to pick up the best Scanner and antenna mods available. Now, You might say "Why Buy the book, I can find these mods on line free". I have a junk pile of burned up radios and scanners I'll sell you if you believe that to be the case. I have literally burned up scores of radios following "On line" advice. The Most recent was almost an expensive 10 meter Radio, something kept saying to me "This isn't right" so I stopped and drew out the circuit myself.. Bingo.. I had almost torched this baby.

You won't have that problem with Jerry's book, his designs and mods are based on sound, proven mods and practices on the more popular scanners of our time. He has good color photos, and walks you through each mod step by step. He gives you a list of tools needed and how to use them.

I personally enjoyed the section on antennas. Antennas are an often overlooked part of radios, which are probably more crucial than the radio itself! Jerry covers many antenna types, as well as "Stealth Antennas". His Stealth antenna may be worth the price of the book alone if you are ever in a situation where you NEED an antenna but fear discovery.

This book is Solid, well written, entertaining and provides the novice hobbyist a chance to learn new skills and techniques. Beginner or Pro, it doesn't matter, you'll enjoy this book!



Technical Specs:
Paper Back, 173 pp with extensive references, web sites, and data.

Photos are good quality

Chapters include:
Scanner Laws
Frequently asked Questions
Tools and Tricks
Sensitive Components
Cellular programming
PRO-series scanners
Bearcat scanners
Mods for any scanner
Antennas (My personal favorite)
6 very useful appendicies

OTHER:


You can order this book directly from Paladin Press at their website. To visit the Paladin Press website, or read more about Scanner Modifications and Antennas, just click on the addy below!
http://www.paladin-press.com

---

Return To Product Reviews Page

---

Return to The Alpha Group Web Page

---


Send Warlord E-mail.
Address:

All materials at this site not otherwise credited are Copyright © 1996, 1997, 1998, 1999, 2000 Trip Williams. All rights reserved. May be reproduced for personal use only. Use of any material contained herein is subject to stated terms or written permission.