Stern's "AA" Solar Battery charger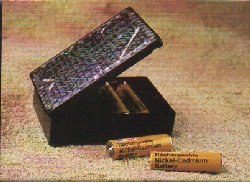 This unit was received from REI Outdoor Gear. The lid to the case is a small solar panel and when placed in direct sunlight, will charge "AA" Nicad batteries. It charges:
1 battery in 2-3 hours
2 batteries in 4-6 hours
3 batteries in 7-10 hours
4 batteries in 10-14 hours

It also states to recharge batteries at the first sign of weakness, since batteries will last up to 4 times longer when charged after only 50% discharge (the jury is still out on that theory, folks).



The Down Side:
This unit requires lots of sunlight to operate, and it takes a LONG time to charge 4 batteries. They are also kinda fragile. They are MUCH better than having dead batteries though! They do work!

Would WE Buy It?:
yes, we bought several of them at a cost of $15.50 each from REI after the sample. We figured we could charge more batteries faster with several units.

Technical Specs:
Units are 3 3/4 inches long, by 1 inch thick, by 2 1/2 inches wide. Black plastic case with a hinged solar panel for a lid. Will charge up to 4 AA batteries at a time, or individually.

OTHER:
We use a plastic military "decontamination kit" box to store each unit in. They fit perfectly with a slight modification to the lid of the decon box. We also store extra batteries inside the chargers while the chargers are in the decon boxes. This also protects the units VERY well!

---

Return To Product Reviews Page

---

Return to The Alpha Group Web Page

---


Send Warlord E-mail.
Address:

All materials at this site not otherwise credited are Copyright © 1996, 1997, 1998, 1999, 2000 Trip Williams. All rights reserved. May be reproduced for personal use only. Use of any material contained herein is subject to stated terms or written permission.