The Bug Book
by:M.L. Shannon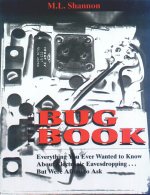 Another great book on bugging and being bugged! It seems that lately some industry professionals have been writing books, and it's about time they got the TRUTH out! As an Electrical Engineer, I read many books on this subject and just shake my head in wonder that some of these books ever sell, but this is one that I am totally in agreement with!

Mr. Shannon obviously knows his stuff, and has written The Bug Book so that it can be understood by the novice, yet enjoyed by us "propeller heads" too! The stories of bugging are informative and sometimes funny, but they also give you insight into the world of bugging. I believe that some of the methods and other things he discusses have never been seen in print before now.

Of course this book is for Academic study only, cause if you get caught actually doing some of the stuff discussed in this excellent book... (all together now) "SERIOUS Jail Time!"

EVERY chapter is chock full of great stuff, sections are often broken into subsections for clarity or expansion of a technique. If I could ONLY buy one "Bug Book", this would be my choice (but Thankfully I can buy more than one, cause lately other good ones are out there too!)!


Technical Specs:
Paper back
11 x 8.5 inches
157 pages
LOTS of pictures and specs!
13 BIG Chapterswith MANY sub-chapters
Chapters Include
How Far Will It Transmit?
Antennas in General
The Secret Lives Of Batteries
Room Audio Or Phone Line?
How to Install a Bug
Receivers
An exercise In Surveillance
Countermeasures
And MANY others!!!!

OTHER:
You can order this book directly from Paladin Press at their website. To visit the Paladin Press web site, or read more about The Bug Book just click on the addy below!
http://www.paladin-press.com

---

Return To Product Reviews Page

---

Return to The Alpha Group Web Page

---


Send Warlord E-mail.
Address:

All materials at this site not otherwise credited are Copyright © 1996, 1997, 1998, 1999, 2000 Trip Williams. All rights reserved. May be reproduced for personal use only. Use of any material contained herein is subject to stated terms or written permission.