*Thermacell Insect Repellent*


By: JohnH2Os
17 August 2007

I was working on another article (Selecting a Generator) and looking at a friends gen set when I got bit by a mosquito... I walked back to my car and pulled my Thermacell out, turned it on, and clipped it on my belt, and never got bit again... and I made a mental note to check the site when I got back home. I have used this product numerous times while hunting and hiking and I don't even recall seeing bugs much less being bitten. It comes in numerous colors to include two different camo patterns. If you live in an area where mosquito's are plentiful, I would highly recommend this repellent.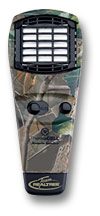 From the Thermacell webpage:
ThermaCELL® Mosquito Repellent
Product Fact Sheet
PRODUCT
Using a unique, patented technology that the Environmental Protection Agency evaluated for safety and effectiveness, the ThermaCELL® Mosquito Repellent system is the most effective area mosquito repellent available to consumers, according to the Walter Reed Army Institute of Research, in Washington, D.C.
HOW IT WORKS
ThermaCELL Mosquito Repellent creates an odorless cell of protection that is up to 98% effective against mosquitoes and other biting insects. It operates on a single butane cartridge, which heats a repellent mat releasing allethrin, a copy of a naturally occurring insecticide, into the air, covering a 225-square feet area (15 x 15 ft.) for up to four hours per mat or 12 hours per refill kit.
PRODUCT BENEFITS
• Proven to repel up to 98% of mosquitoes in worldwide testing by the U.S. Army
• Evaluated by the Environmental Protection Agency (EPA) for safety and effectiveness
• Protects everyone within 15 x 15 ft. area from mosquitoes and other biting insects by creating an invisible cell of protection
• Used by the U.S. Army in Iraq, Kuwait and Afghanistan
• Odor-free; undetectable to game
• Repellent is a non-toxic, synthetic analog (chemical copy) of a natural insecticide, pyrethrin, found in the pyrethum flower, a member of the chrysanthemum family
• Effective alternative to smelly lotions and sprays which must be applied to skin
• Provides up to 50 times more protection than mosquito coils or citronella candles
• High energy butane lasts 30 times longer than the energy of alkaline batteries (by weight)
SAFETY BENEFITS
• Safer than candles; cleaner than paraffin candles
• No open flame.
• Lantern shuts off if tipped over
PRODUCT USE
• Products are cordless, small and fit easily into a small bag or backpack for transport
• Repellent mats are easy to carry and replace as needed
• Perfect for use at home (barbeques, gardening, patio) or in the great outdoors (camping, hunting, fishing and outdoor sports events).
Although the ThermaCELL Mosquito Repellent is most effective against mosquitoes, it has also been shown in field testing to be effective against black flies (Prosimulium hirtipes and Simulium venestrum), no-see-ums (Culicoides, also known as biting midges), and phlebotomine sand flies.
We do not have any data to support efficacy claims against the larger biting flies (horse flies, deer flies, greenheads) or common house flies. We also do not recommend it for bees, wasps, yellow jackets, or hornets. We do believe that it is effective in reducing or eliminating the annoyance of some non-biting insects such as gnats, but we do not have field test data to support this claim.
The ThermaCELL Mosquito Repellent is registered with the Federal EPA and with the EPA of each and every state. (Note: during the registration process the EPA evaluates insecticide products for safety and efficacy as well as environmental impact.)
http://www.mosquitorepellent.com
JohnH2Os
---
www.alpharubicon.com
All materials at this site not otherwise credited are Copyright © 1996 - 2007 Trip Williams. All rights reserved. May be reproduced for personal use only. Use of any material contained herein is subject to stated terms or written permission.