*Thermolite Reactor Extreme Sleeping Bag Liner Review*


By: Landwire
26 June 2013

I have a sleeping bag that just doesn't work too well in the cold anymore. While not a down sleeping bag, this bag will compact down quite a bit. I decided to see if I can extend the life of it by getting a sleeping bag liner. I did some research, checked out some reviews and decided on the Thermolite Reactor Extreme by Sea to Summit. From the website and packaging, it says this liner will improve 25 degrees to your sleeping bag.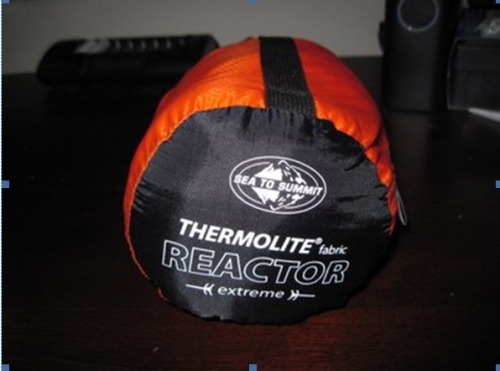 Several things stood out right away. First thing is that it was kind of pricey. Mine was purchased for about $65 at REI. The 2nd thing is that it is small. It's about 6 inches long and about 3-4 inches in diameter. It's also quite light. Website claims it weighs 14 oz. My previous liner was a flannel summer bag that weighed a whole lot more and a whole lot bigger.
Once opened, things go a little odd. First there is no zipper or Velcro or any type of side bag opening. The only way in or out is through the top. For me to use as a liner, I need to open my current sleeping bag open. Then like a par of socks, I scrunch up the liner and step into it. I then pull it up. Once I get it up about arm pit level, I then maneuver myself into my sleeping bag. From there, I can zip up my sleeping bag. Once I get the sleeping bag zipped up, I can pull the rest of the liner up around me. There is a draw string around the hood so it can synch up like the hood on a mummy bag. On several cold, cold nights, I actually started to get too warm and had to zip open my bag a bit. I did not have a thermometer with me so I do not know how cold it really got. What I do know is that other folks were complaining about how cold it got during the night. I should also mention that at the time, I was sleeping in gym shorts and a t-shirt while everyone else was bundled up in sweats, thermals and other warm type clothing.
The drawback for me is that there is no side opening. If you have to quickly get out of bed in the middle of the night, it can be a little challenging. After several tries, I can not get out of bed as quickly as I would like. Perhaps with more practice I can, but right now it seems clumsy and awkward. Now, in the morning when I get up, I can get out nice and easy. Only when it's urgent, it seems difficult.
Overall, I am quite impressed with it and would recommend it to anyone who is looking to add some warmth to their current sleeping bag. I got a few warm weather campouts planned for the summer and will be trying it out just by itself. I will bring a sleeping bag just in case, but will see how it handles by itself.
Landwire
---
This Article Was Proudly Formatted For The AlphaRubicon Website By: Coffeehound



www.alpharubicon.com
All materials at this site not otherwise credited are Copyright &copy 1996 - 2013 Trip Williams. All rights reserved. May be reproduced for personal use only. Use of any material contained herein is subject to stated terms or written permission.