THR Custom Blades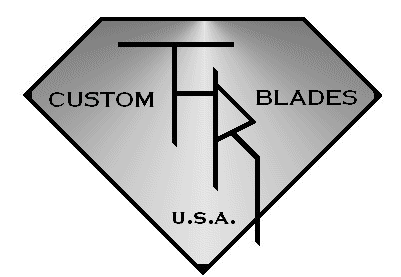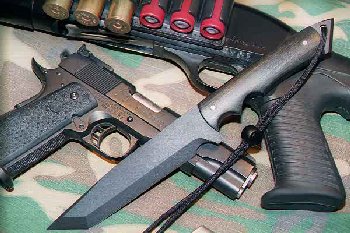 If it's got the "Rinaldi" or "THR" stamp on it then you have a knife that is damn near indestructable. They stay sharp, and are worth the money! Mine is a slightly Longer version of the "Rinaldi Warhawk", Mr. Rinaldi made this mod to it for a VERY resonable price. Mine has the Standard G-10 Handle, the Black teflon coating and a Kydex sheath. It also has THREE finger positions cut into the upper part of the handle, one position for chopping, another for general use, and the last for better blade control on delicate jobs. When you pick this knife up, you KNOW you have a handfull of heavy, wicked, serious blade.... with their tanto design they will PUNCH THROUGH a car hood! As a side note, Rinaldi knives are in the sequel of James Wesley, Rawles' online survival novel, "Triple ought"! (Look for the Review of "TEOTWAWKI" on Huntress' Book reviews page), Be sure to see a few of these quality knives by hitting this link: THR Knives


The Down Side:
Mr. Rinaldi has just revamped his sheath system, we haven't had an opportunity to examine them yet... But that review will be forthcoming.

Would WE Buy It?:
YES... We have several!

Technical Specs:
6 1/2" blade,
3/16" ATS-34 Steel,
Cryogenically Stress Relieved,
Heat Treated to a hardness of Rc. 59-61,
G-10, or Micarta, handle scales,
Non reflective Black-Teflon finish.

OTHER:
Nothing

---

Return To Product Reviews Page

---

Return to The Alpha Group Web Page

---


Send Warlord E-mail.
Address:

All materials at this site not otherwise credited are Copyright © 1996, 1997, 1998, 1999, 2000 Trip Williams. All rights reserved. May be reproduced for personal use only. Use of any material contained herein is subject to stated terms or written permission.