The Ultimate Sniper
Major John Plaster USAR (RET)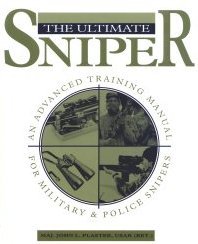 Major John Plaster is probably THE best sniper alive today, that's just a simple truth. In this MASSIVE book he covers every aspect, art and secret of being a better sniper. Clear out your reading schedule because this book is huge, and packed with the best fieldcraft and sniping info that can be had.

Chapters include:
Sniper Unit Organization and Equipment
The Sniper's Rifle
Sniperscope Basics
Using a Sniperscope
Bullets and Ballistics
Basic Sniper Marksmanship
Advanced Sniper Marksmanship
Special Shooting Situations
Binoculars and Spotting Scopes
Spotting and Target Detection
Range and Wind Estimation
Camouflage For Sniping
Stalking and Movement
Mantracking
Countersniping
And MANY many more...

Plaster leaves nothing to chance and holds nothing back. It's all in here! It's well written and packed with info and anecdotes. After reading this book, I HAD to get a good Sniper rifle, I was that impressed!



The Down Side:
This book is a weapon in itself, it's BIG!

Would WE Buy It?:
Yes, This book is on Alpha's "Must have for a complete library" list. Much of this info can be used in ANY survival situation, not just sniping.

Technical Specs:
8.5 inches by 11 inches
22 chapters and 3 Appendices
455 big pages
Charts, Pictures and illustrations.

OTHER:


You can order this book directly from Paladin Press at their website. To visit the Paladin Press website, or read more about The Ultimate Sniper, just click on the addy below!
http://www.paladin-press.com

---

Return To Product Reviews Page

---

Return to The Alpha Group Web Page

---


Send Warlord E-mail.
Address:

All materials at this site not otherwise credited are Copyright © 1996, 1997, 1998, 1999, 2000 Trip Williams. All rights reserved. May be reproduced for personal use only. Use of any material contained herein is subject to stated terms or written permission.