Up Yours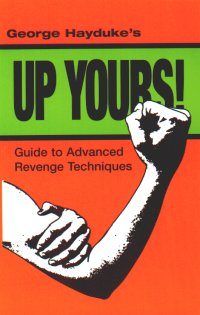 The author's name speaks for itself, HAYDUKE! Not to wear out an old cliché, but George Hayduke is THE MASTER of revenge techniques. His books are the standard that all other revenge type books are measured against.

As usual Mr. Hayduke gleefully covers revenge tactics on everything from nasty ex-spouses, ex-lovers and ex-bosses, to landlords, corporations, Government red tape and everyone/everything else under the sun.

George Hayduke is original, funny, and so clever that you can't help but love him (as long as you aren't on his bad side... you've never seen ME write up a bad review on his books or tapes have you? : )

This is one of his best! Packed with info!
For INFORMATIONAL PURPOSES ONLY!


Technical Specs:
221 pages, numerous chapters and sub-chapters.
Paper back 5.5 X 8.5 inches


OTHER:


You can order this book directly from Paladin Press at their website. To visit the Paladin Press website, or read more about Up Yours, just click on the addy below!
http://www.paladin-press.com

---

Return To Product Reviews Page

---

Return to The Alpha Group Web Page

---


Send Warlord E-mail.
Address:

All materials at this site not otherwise credited are Copyright © 1996, 1997, 1998, 1999, 2000 Trip Williams. All rights reserved. May be reproduced for personal use only. Use of any material contained herein is subject to stated terms or written permission.