*10-minute Emergency Water Cache*


Using the WaterB.O.B
By: Automatr
18 October 2008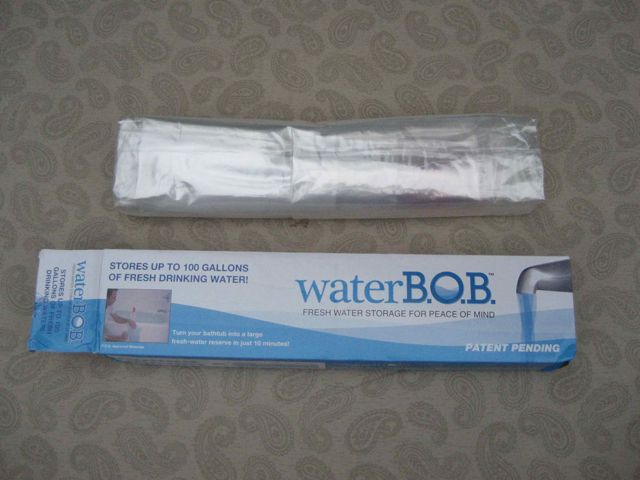 The WaterB.O.B. (Bathtub Oblong Bladder) is a large-capacity food grade plastic bladder. It utilizes your bathtub both as a water source for filling, and as a way to hold itís shape for storage. Itís very simple and expedient system that stores in a small amount of space. (4.5Ē x 19Ē x 3Ē when folded up and placed in the box).
Itís ideal for anyone who cannot keep large containers on hand for potable water storage or anyone who needs to store some water in a hurry.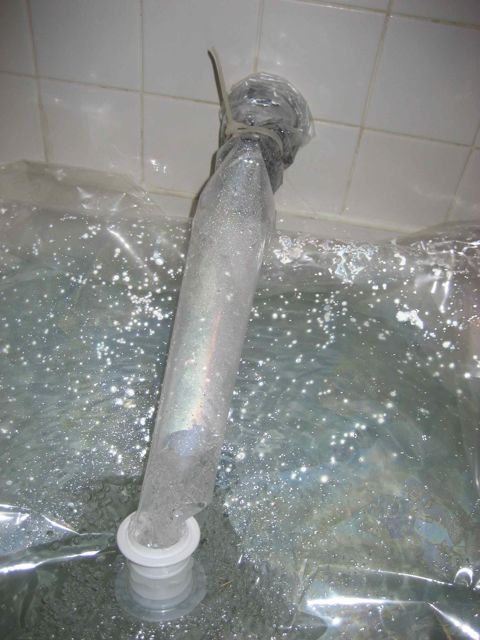 Rapid Deployment
Operation is quick and simple. Remove the WaterB.O.B. from itís packaging, lay it out flat in the tub, attach the fill spout to your tubís water faucet, and turn the water on. When the bladder is full, turn off the water and replace the screw on cap in place of the filler neck. Done.
The whole process took me less than 10 minutes from start to finish the first time I tried it.
The capacity is determined by the size of your bathtub. The WaterB.O.B. itself has a capacity of 100 gallons, but I could only fill it to about 65 gallons because of the size of my bathtub. The instructions recommend filling to 1/2Ē above the rim of the bathtub. Note that you will not be able to use the tub while the WaterB.O.B. is in use.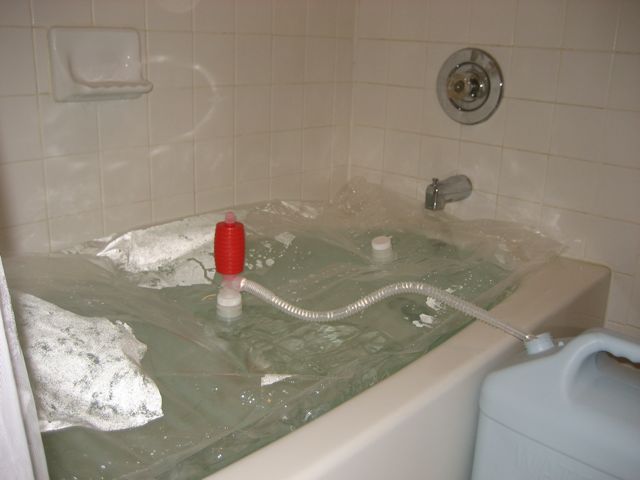 Getting the Water Out
After filling the WaterB.O.B., you use the supplied siphon pump and hose to get the water out. Itís very similar to the siphon pump used for siphoning kerosene for heaters.
There was no unusual taste or smell to water stored in the WaterB.O.B. The plastic is by no means heavy duty, but it is thick and sturdy enough you should easily get several uses out of the WaterB.O.B. if youíre careful. A tablespoon of bleach would treat a full WaterB.O.B for longer term storage, if needed.
Missing Items
There are a couple of items that are not included that would make the WaterB.O.B. much easier to use.

A reusable Zip Tie to secure the fill spout around your water faucet. Otherwise, the filler neck might slip off the faucet, making a mess.
A piece of water hose about a foot or two long. The hose thatís attached to the water pump might be a little too short to start the siphon action if youíre filling a small container thatís on the floor.
Keep those two items with your WaterB.O.B. and youíre good to go.
I bought my WaterB.O.B. for about twenty bucks at waterbob.com.
I have no financial or business interest in this product.
Automatr
---
www.alpharubicon.com
All materials at this site not otherwise credited are Copyright © 1996 - 2008 Trip Williams. All rights reserved. May be reproduced for personal use only. Use of any material contained herein is subject to stated terms or written permission.