What-A-Saw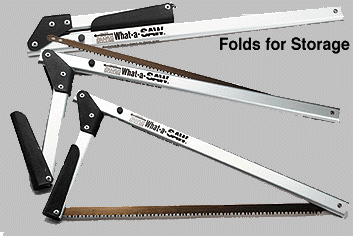 This is a nicely designed folding "bow saw". This Saw folds out into a "triangle" made of lightweight aircraft aluminum. Inside the Shaft is attached three long blades, a regular log saw-blade, a wood saw-blade (like for 2x4's), and a hacksaw blade for cutting steel. You can fold out any of the three blades and attach it to the handle and begin sawing! We use them in the woods while camping to saw logs for the fire and any other sawing chore you would need to do. The whole thing folds flat for safe and easy storage. Our Survival Team has put them in our field packs and we reccommend them highly. The going price seems to be about 15 dollars from the Sportsman's guide.


The Down Side:
The saw's body is shiny silver so you have to "tone it down" for field use. It rattles pretty bad during use so, again, you have to tone it down for "tactical work" .

Would WE Buy It?:
YES... We ALL bought at least one, and we give them as gifts.

Technical Specs:
3" x 21-1/2" x 1"
High-quality tempered steel blades
Aircraft Aluminum body

OTHER:
Be sure to pick up extra blades for future use.

---

Return To Product Reviews Page

---

Return to The Alpha Group Web Page

---


Send Warlord E-mail.
Address:

All materials at this site not otherwise credited are Copyright © 1996, 1997, 1998, 1999, 2000 Trip Williams. All rights reserved. May be reproduced for personal use only. Use of any material contained herein is subject to stated terms or written permission.