*My Bug Home Cache Experience*
By: Thoth8
09 March 2011
The plan was to do a real life test.
"The Plan": Have the wife drop me off and walk back home with all my bug home stuff that I have in a cache, then to check out the gear and replace anything I need to.
Step One: I was dropped off at the freeway exit. Google Earth said it would be a 4.7 mile hike through woods and city. Last time I did something like this?... I almost killed my sedentary butt!
Items on me:
Cell phone (not used)
Printout of topo map with exact area marked
Lensatic Compass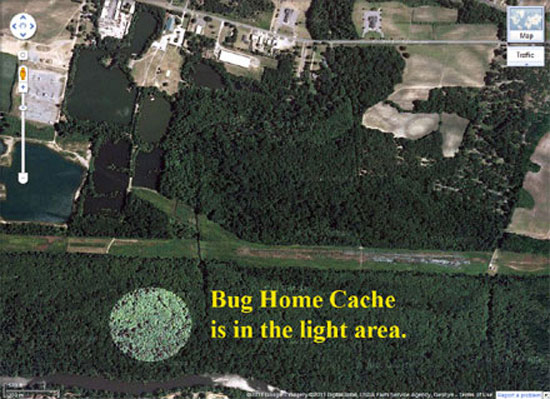 The freeway is at the top of this screenshot. The cache is about a mile from the drop off point.
Step Two: Get to my tree cache. (See picture below.)
I got there by using a compass, not GPS! (By the way...I learned how to do that on the Rubicon; It was an article by Warlord... "Life is a Circle").
I sort of knew where it was because it was only 6 months old. I found it covered in mud and slime. I had placed the cache in a small trench on its side, at about a 20-degree angle. The top was covered with 3 rocks, which made it look natural (to me).
I had used a 4-inch pvc pipe caped on one end, threaded on the other. I did not have a tool to open it. So I had to smash the screw end part of it open with a rock. When I reset this back up, I will tape a tool of some kind next to it in plastic or epoxy a piece to the top so I can open it.
I knew the pipe was eight heel-to-toe paces north of the treeís opening. It appeared that the area had flooded and covered the top of the tube. So I had to hand-dig a bit around the cap to open it. The tube was tilted a few degrees. I'm guessing a tree root hit it or it had tried to float up out of the ground. It was still water tight, but Iím not sure if I can trust it. Something pushed on it, so it might have a crack which I cannot see.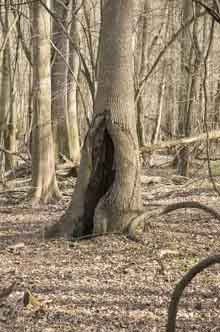 My tree cache
Step Three: Get home!
I had no problems of any kind and did not get out of breath or tired. But, at about 600 to a thousand feet from home, my right heel started hurting a lot and my toes got tired, if that makes any sense. This could have been from wearing sneakers instead of my good hiking boots. I have been home for a while now and my heel still hurts every time I walk on it, not badly, but very sore.
What I learned:
The hike took two to three times longer than Google said it would on foot.
The pack weighs 15.9 pounds.
One day after... I was kind of sore and the foot did not hurt as much. From what people are telling me, I may have bruised it from ill-fitting shoes. This seems right on.
Two days after... Wow, my muscles were really sore. Trapezius muscles hurt, Latissimus dorsi muscles hurt and Gluteus Maximus muscles hurt.
This is what was in my cache:
4 bottled waters
5 cans of food with pop tops
2 candy bars
4 flavors for the water (they have sugar and salt for rehydration)
1 cup of white rice in a bag (not instant)
2 Soaps
2 mouth washes
1 Hobo Tool 7-in-1 Fork-Spoon-Knife-Can Opener-Cork Screw
1 Hand sanitizer (lots of uses)
1 Pen and paper
1 Lighter
1 Swedish Fire Steel
1 deluxe map compass
1 generic Swiss army knife
1 Harbor freight 9-LED light
2 AA Energizer batteries
1 250 feet length of 20 guage wire for snares
1 First aid kit
1 week's worth of normal maintenance medications
1 Brown felt throw
1 Contractor's trash bag
1 Backpack
50 squares of toilet paper
No weapons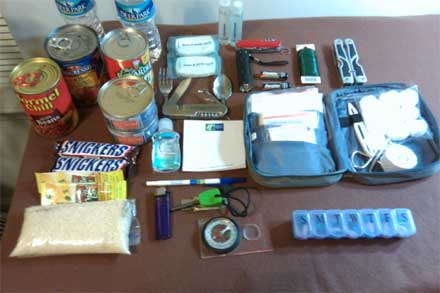 My cached supplies
These are things I used:
Toilet paper
2 bottles of water
2 flavor packs
These are things I want to add:
Pepper spray
Anti-insect wipes
Tick spoon
Good set of old boots
Ibuprofen
Now I know for sure I can do it and not stress over it. Now to put more caches out and about. I will probably do smaller ones like my 2-liter bottle caches, but thatís another article...
:-)
General health notes:
I didnít know my blood sugar (Iím a type 2 non-insulin diabetic) before the hike, but when I returned home it was 78. I have been running about 122 average for the last 3 months. Thatís everything before and after meals and exercise - just an average total of every time I checked my sugar over the last 3 months. My estimated HbAc1 is 5.9%. The cell phone application I use is called ďOnTrackĒ and it's a free Android app.
Thoth8
---
www.alpharubicon.com
All materials at this site not otherwise credited are Copyright © 1996 - 2011 Trip Williams. All rights reserved. May be reproduced for personal use only. Use of any material contained herein is subject to stated terms or written permission.